The word "organic" can be applied to many things in our modern day lives.  Most commonly, it applies to
food that has been grown organically
(meaning without pesticides).  But as a quick search in Webster's dictionary showed us, the term organic means "of, relating to, or derived from living organisms."
And Tel Aviv's "Don't Panic It's Organic" concert this Saturday night is all about living organisms.
So what's an organic concert?
The "Don't Panic It's Organic" concert is a response to the hostile takeover of electronica music in the local music scene and a collective insistence upon the merit and value of man-made music.  (In other words, music of, relating to, or derived from living organisms.)  Of course it's not entirely organic… it's no Earth Hour Tel Aviv concert powered by biodiesel and human bicycle pedalers and some electricity will probably be used to power the lights and instruments – but it's a step in the right direction.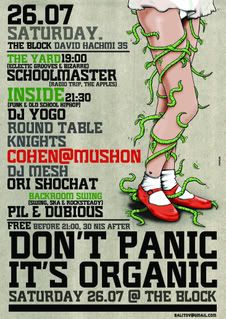 All kinds of organic man made music will be playing, including a 7pm kickoff by Schoolmaster (playing funk), hip hop from the Round Table Knights and [email protected] at 9:30pm, and reggae and swing music in small private rooms.
Don't Panic It's Organic, Saturday 26.7 @ The Block (35 David Hackmey, Tel Aviv), free entrance from 7-9pm (30 NIS after)
Read more about other green music:: The Hills are Alive: Music Goes Green in Jerusalem's Valley of the Cross and Inbal Dayagi Designs a Boom Box with Eco Soul
Comments
comments